The BBC program Call the Midwife should come with a health warning because it could be misunderstood due to its "outdated" and "inaccurate" birth practices, academics say.
A total of 87 births were investigated across 48 episodes of Call The Midwife, This Is Going To Hurt, and One Born Every Minute.
These largely align well with National Institute for Health and Care Excellence (NICE) guidelines.
However, a third showed inaccurate or dramatized depictions of doctors or midwives clamping (severing) the umbilical cord.
NICE says babies should not be clamped earlier than one minute after birth unless there are concerns about the baby's heartbeat or the integrity of the umbilical cord.
But in the episodes studied, it appeared to happen quickly or too quickly in 21 cases.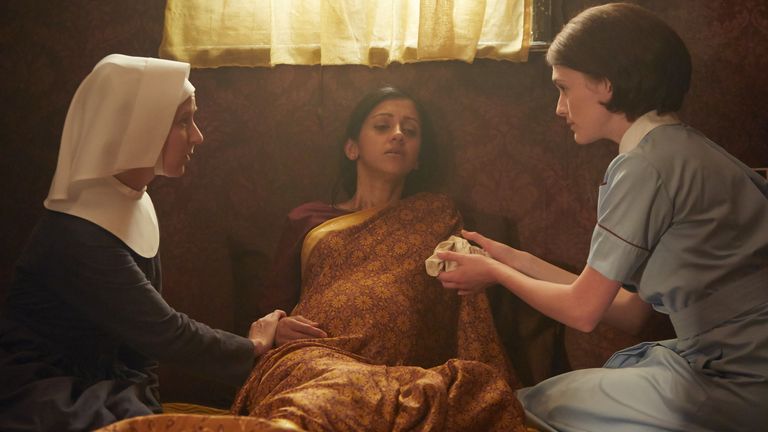 "Call the Midwife" was a huge hit. BBC The work began in 2012 and depicts a group of midwives in east London in the 1950s and 1960s.
Susan Bewley, emeritus professor of obstetrics and women's health at King's College, said she was "impressed by how accurately British television programs have portrayed the changes in childbirth over the past century."
"But on the other hand, it also made the public aware of the poor quality of care surrounding birth clamps.
"These inaccurate depictions can impact how people view real-world care.
"Most televised births featured premature umbilical cord clamping, but no program informed viewers about the safety aspects."
Read more from Sky News:
BBC soap to be canceled for the first time in 23 years
Big Brother reprimands contestants
Andrew Weekes, professor of international maternal and child health at the University of Liverpool, also said safety warnings were needed.
"Medical professionals know that midwives and doctors should not obstruct blood flow to a newborn or separate mothers and babies without urgent reason, yet this is common practice and is shown on popular TV shows. "That's what's happening," he said.
"Such inaccurate depictions, even routine ones, can lead to misunderstandings of correct practice by the public.
"This shows that safety recommendations are needed when television dramas depict outdated and inaccurate childbirth practices and procedures."
A Call the Midwife spokesperson said the show is "a drama, not a documentary, and is set half a century ago."
"This work is a highly accurate reproduction of the era depicted and shows how childbirth has fundamentally changed over the years," the researchers added.
This research is published in the journal 'JRSM Open'.